Version 1.3 is here! 🎉
We're continuing to improve RetentionKit to help you improve your cancellation experience and reduce churn. This release includes bug fixes, survey and renewal discount improvements, and new features that we've been working hard on the past few months.
Here's what's new:
Custom survey responses!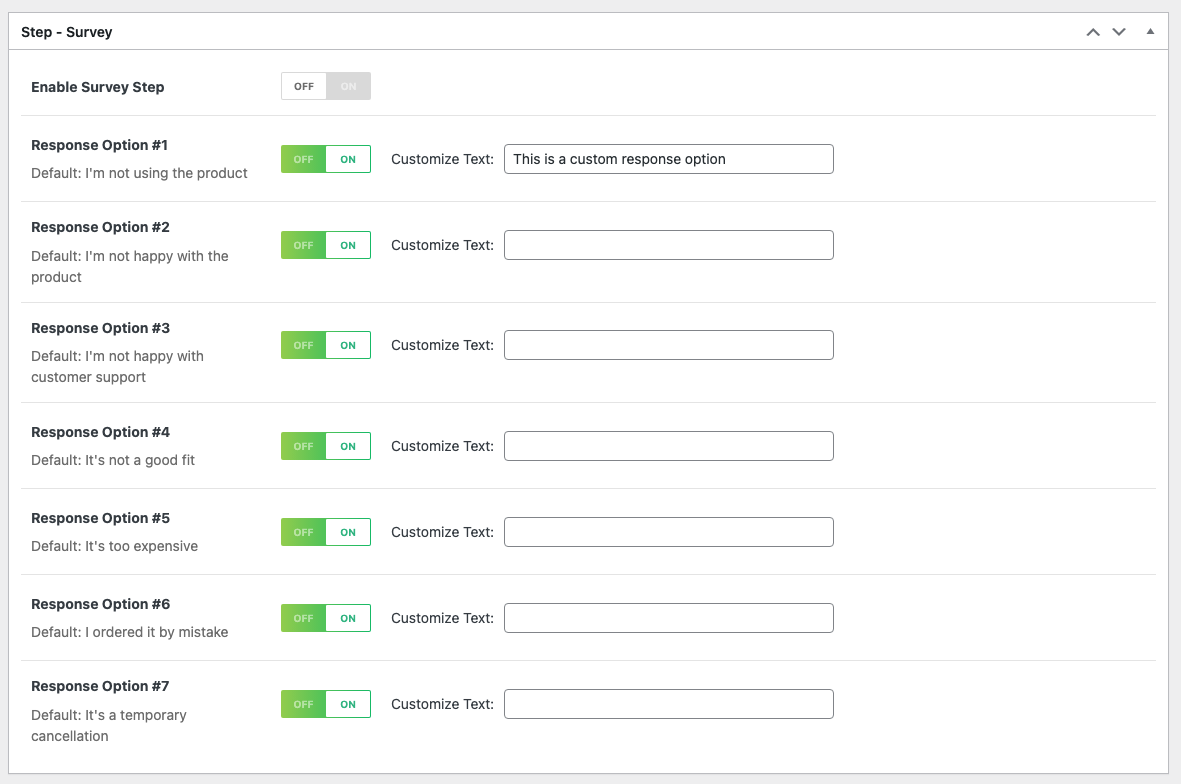 Our most requested feature is finally here. Within each workflow, you can now customize up to 7 survey responses plus you have the ability to turn responses off/on. Each of these custom responses will show in your responses log and get's transferred to Klaviyo (assuming you have Klaviyo set up).
Discount improvements
Subscription notes on applied discount
We now leave a public subscription notes so both you and the customer can see the discount has been applied.
Apply discount on x renewals
Create a discount that only applies to a set number of renewals.
Discount trigger limits
Limit the number of times the discount step is shown to customers.
Improved discount logic
Before renewal discounts were only applied on renewal. We now apply the renewal coupon immediately to the subscription.
Filter workflows by coupon
You can now filter workflows by subscriptions that already have specific coupons applied. This is useful if you've run promotions to specific subscriptions in the past and want to be able to filter or segment workflows based off those coupons.
Survey responses added directly to Klaviyo profile
Before, we only sent survey responses as a custom metric within Klaviyo. Now the responses get added directly to the users profile so you can use it in any of your flows and campaigns.
Autoship Cloud add-on and support
Autoship Cloud is a plugin for Woocommerce that allows you to enable any of your WooCommerce products for subscriptions, subscribe and save, repeat ordering, and delivery. This is an alternative product to WooCommerce Subscriptions. In this release we've added support through a new add-on.
---
Full Changelog:
= 1.3 =
* Fix: Coupon usage limit condition changes
* Fix: Active for x payments feature not working
* Improvement: Add a way to update the customer's profile on Klaviyo when the RetentionKit survey is filled
* Improvement: Add full reason (value) in Klaviyo profile when RK survey is filled
* Improvement: After workflow conditions HTML hook added
* Improvement: Update survey response customization UI
* Improvement: RetentionKit license HTML logic changes
* Improvement: Admin response page HTML changes
* Improvement: Update label for survey responses
* Improvement: Remove action to apply the discount on the next subscription
* Improvement: Condition changes for the survey response screen
* Feature: RetentionKit Autoship plugin add-on condition added
* Feature: Filters meta box added in the WorkFlow admin area
* Feature: Add survey response to the workflow settings (Back-end)
* Feature: Add survey response to the front-end based on individual workflow settings (Front-end)
* Feature: Add condition to hide Skip step if the Autoship QPilot add-on is activated
* Feature: Make Survey responses option ON by default to display default survey responses
* Feature: Display first popup screen until user selects the survey response option and click on "Continue" button
* Feature: Remove old coupon code from the renewal order (if any)
* Feature: Add subscription notes when a coupon has been applied
* Feature: Restrict how many times a user requests a coupon