Ah, retention. It's the bread and butter of any subscription-based business. Retention is the measure of how many customers continue to subscribe to your service or product over a certain period. It's a crucial metric because it can directly impact the success of your business. By retaining more customers, you can increase your recurring revenue and reduce the need to constantly acquire new customers. It's also cheaper to retain a customer than to acquire a new one.
If you're running a WooCommerce Subscriptions-powered store, you know the ups and downs of the business. While subscriptions are a great way to generate recurring revenue, cancellations can be a real bummer. But fret not, my friend! Here are 7 tips to help you reduce cancellations and boost retention.
1. Start tracking your churn and retention rates.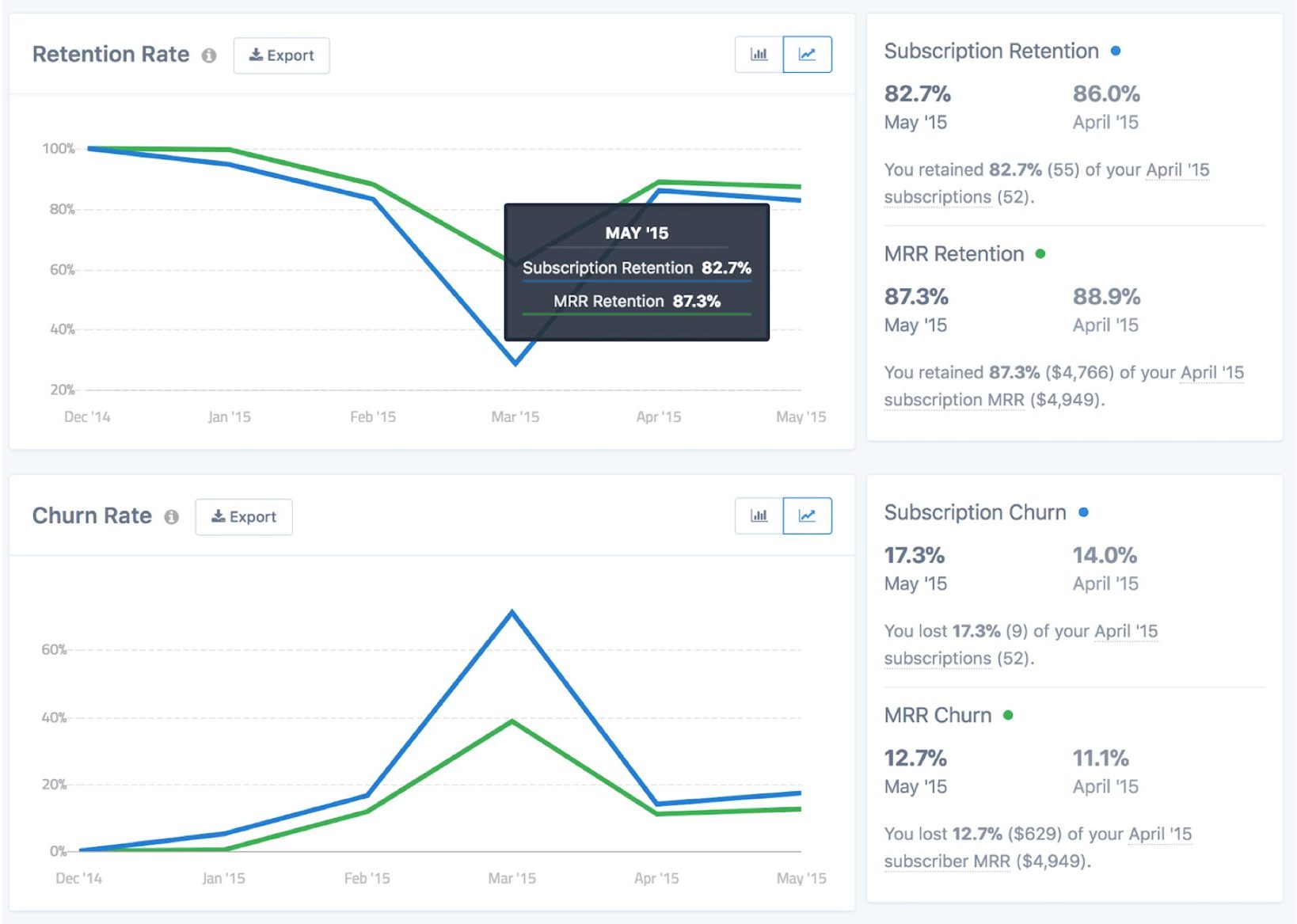 By analyzing customer data, you can gain valuable insights into customer behavior and preferences. This can help you tailor your offerings to better meet the needs and expectations of your customers. For example, you can identify which products or services are most popular among your customers and which ones are causing the most churn. By using this data to make informed decisions, you can improve your retention rates and create a more successful business.
Metorik is a great tool for tracking your subscription products retention and churn over time. It offers a direct integration with WooCommerce subscriptions and will help you get a handle on your churn and retention rates.
We've also built some basic retention stats into our RetentionKit plugin so you can see how RetentionKit is performing on a global or per workflow basis.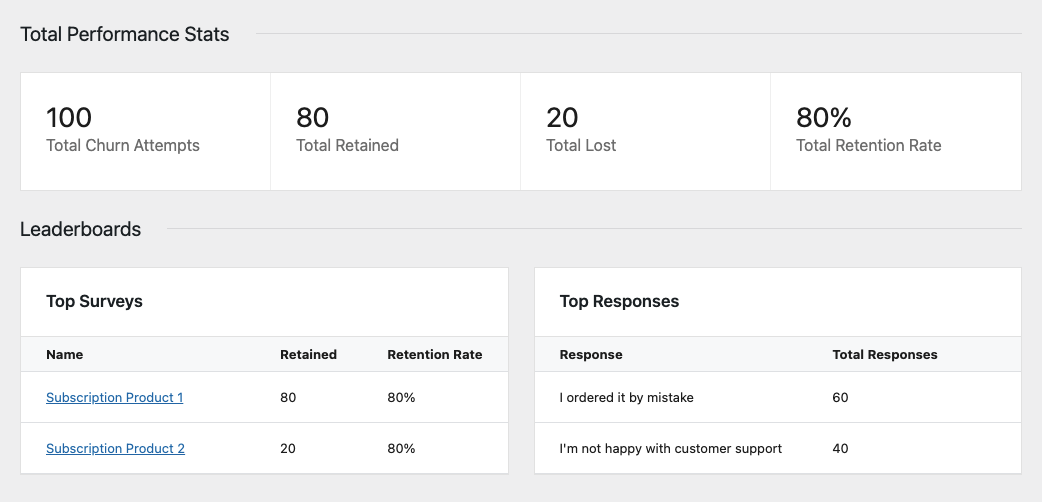 2. Understand why people churn with a cancellation-survey.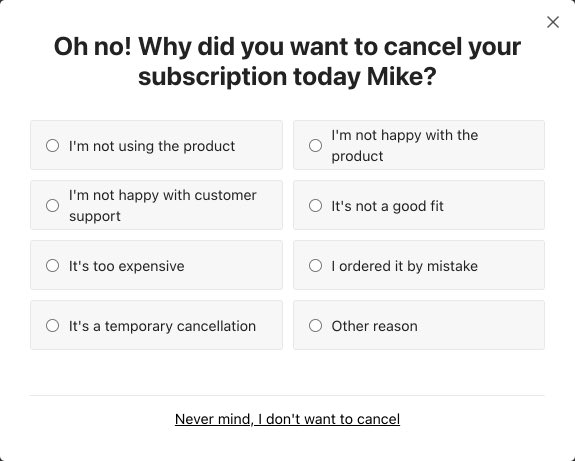 Picture this: A customer cancels their subscription, and you're left scratching your head wondering what went wrong. Instead of playing the guessing game, why not just ask them? Set up a cancellation-survey and let them spill the beans. The feedback you get can help you improve your business and even win back some customers.
With RetentionKit, we have surveys built into the cancel experience. As soon as someone hits the cancel button, we show them your cancellation survey. Surveys can be unique per product and you can customize the survey responses.
3. Create a payment recovery email or SMS flow.
Did you know that the vast majority of credit cards expire every 36 months? This means that roughly 2.8% of your customers' cards will expire every month. If these expirations are left unaddressed, you could lose nearly 33% of your annual subscriptions every year from delinquent churn alone. This is especially true for longer plans where the risk of expirations preventing successful billing is greater.
We've all been there, a renewal payment fails, and we forget to update our payment info. That's where an automated payment recovery email or SMS flow comes in handy. If you're using Stripe and Klaviyo, you can set up automated reminders to get payment info updated.
4. Improve your onboarding experience.
Let's face it, first impressions matter. That's why improving your onboarding experience is critical to customer retention. Did you know that a well-designed onboarding process can increase customer lifetime value by 16%? From the order confirmation to follow-up emails, make sure your customers feel welcomed and appreciated. Answer their questions, address their concerns, and be the brand they can't live without.
5. Let customers skip instead of cancel.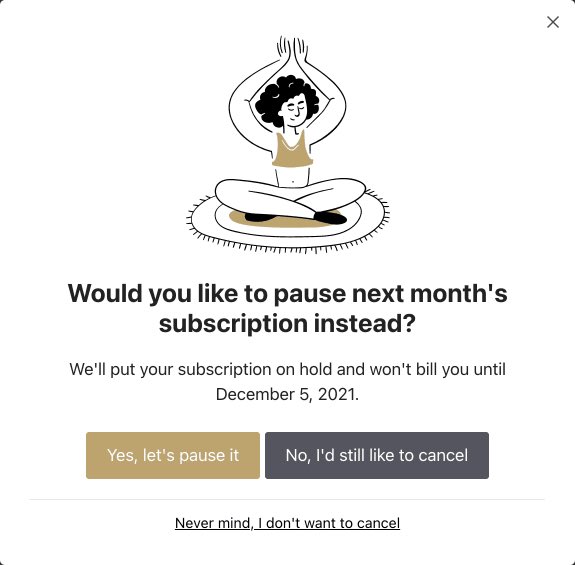 Life happens, and sometimes customers need to take a break from their subscription. Instead of canceling altogether, why not let them skip? According to a study by Recurly, a subscription management platform, allowing customers to skip a subscription renewal can increase retention by up to 10%. Encourage users to pause their subscription instead of canceling.
With RetentionKit and our Klaviyo integration, you can set up an email/SMS flow to remind them to come back and segment those flow based on their cancelation reasons. It's a win-win for everyone.
6. Let people easily downgrade or change their plan frequency.
Nobody likes a complicated process, especially when it comes to subscriptions. That's why using tools like the Toolbox for Subscriptions by Shop Plugins or One-Click Switch extensions for WooCommerce can simplify the process. Give your customers the ability to downgrade or change their plan frequency with ease.
7. Give customers one last offer to stay.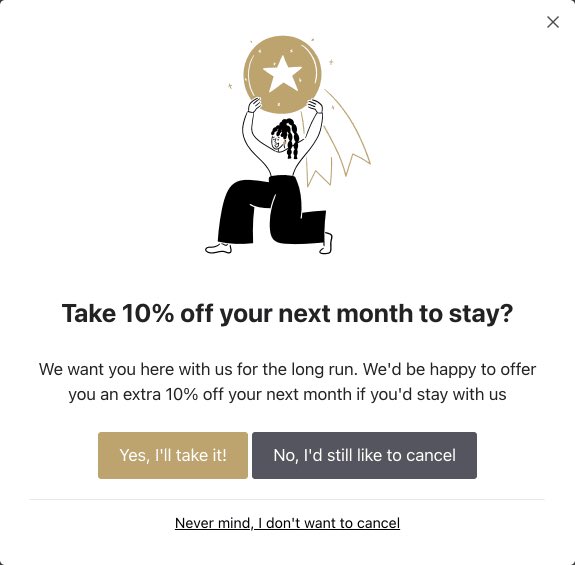 Assuming their reason for canceling is a financial one, offer a last-ditch effort discount on their next renewal to entice them to stay. It's like giving them a second chance at love (or at least a second chance at a subscription). According to a study by Aberdeen Group, a technology research company, offering a discount or promotion to customers who cancel can increase retention by up to 40%. Who knows, maybe they'll fall head over heels for your brand all over again.
Within RetentionKit, you can easily enable a custom cancelation offer and message. You can decide what amount you want to offer and even how many renewals you want it to apply to.
In conclusion, reducing subscription cancellations and boosting retention is essential for the success of any WooCommerce subscriptions store. By implementing these 7 tips, you can improve your business and increase your profitability. From tracking your churn and retention rates to offering discounts to customers who cancel, these strategies can make a significant difference in your business. So, roll up your sleeves and get to work!